Jurassic World: Dominion Dominates Fandom Wikis - The Loop
Play Sound

This article is incomplete.
Please help improve IDW Sonic Hub by expanding it.
The infobox template in this article is missing some required data/details. You can help IDW Sonic Hub Wiki by filling it in.

Zazz is a Zeti who is a member of the Deadly Six.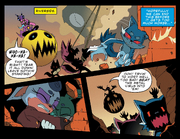 Biography
History
Past
At one point in the past, Dr Eggman invaded their world and enslaved the residing Zeti, including Zazz, with an ancient relic. However, they managed to rebel against the doctor and usurped Eggman's robots with his race's ability of controlling magnetism. The Deadly Six were stopped by Sonic.
The events were chronicled in the Eggnet.
After both Eggman and Sonic left the Lost Hex, Zavok and his group used the Doctor's abandoned base in the Lava Mountain Zone to create Zeti Castle.
Metal virus crisis
Dr. Starline found the files of when Dr Eggman encountered the Zeti, as well as being interest in their electromagnetic abilities.
Out of the Blue
This section is needed but has not been written yet.


You can help IDW Sonic Hub by writing it.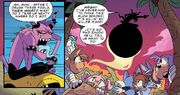 Appearance
Zazz is tall and lanky.

This article may have the complete information, but may have been copied from a previous work such as the main Sonic Fandom site and needs to be re-written to make it different from the source.
Please help improve IDW Sonic Hub by expanding it.
Zazz is a very tall and very lanky Zeti, with very thin limbs and body structure. The upper half of his body appears to be vibrant pink, while his body from the waist down is pure black, ending in two-clawed feet with purple toes. A third much smaller claw appears to jut out from his heels. Zazz has a long tail that appears to be bent into a vague "Z" shape, similar to that of Knuckles the Echidna. Zazz has a row of small black spikes running down his back, from the base of his neck to the middle of his spine. Zazz's thin arms end in proportionately large five-fingered hands, each finger tipped with purple nails.
Zazz has an oblong head with a large gaping mouth, which is never closed. He has long, thin, sharp teeth and a long cyan tongue, which is almost always seen hanging out the side of his mouth. He has green irises with yellow sclera and black markings under each eye. On the top of his head, Zazz has a pair of horns that point outwards, colored in alternating rings of black and light purple. Between them is a mohawk of purple hair.
Zazz wears a pair of black wrist cuffs with gray spikes on them, and a matching spiked collar.
Abilities
Like the other members of the Deadly Six, he has ability to manipulate electromagnetism with his mind.
Similar to when he was first fought by Sonic, Zazz makes use of his own mech that he rides on top of.
Trivia
Zazz, along with the rest of the Deadly Six, first appeared in Sonic Lost World.