This article is incomplete.
Please help improve IDW Sonic Hub by expanding it.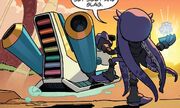 Omnipotence was the name of Mimic's personal Extreme Gear.
History
Tangle and Whsiper
Mimic has the extreme gear in his possession, where he used to to travel away from the now-destroyed Egg Bunker. He then stopped and communicated with Eggman, reporting that Whisper has been successfully eliminated. Eggman, not trusting him due to Mimic's previous false report, orders the octopus to find and show him evidence of that. Mimic, used his extreme gear to travel back to the obliterated bunker, where he found a message from his enemies, telling him to meet her where they both got started.
Appearance
This article is in need of a clean up to better fit set quality standards.


Please help improve IDW Sonic Hub by updating it.
The Omnipotence resembles a bumper car, unlike the other Extreme gears that were skate board-like. It features a drill on the front. it is primarily coloured white with gray footing panels and a blue seat and blue rims. It also featured yellow exhaust post on either side and glowing multicoloured stripes on the rear.
Trivia
The Omnipotence (Omnitempus in Sonic Riders Zero gravity) was a powerful vehicle that a recurring vehicle in the Sonic Rider series granted the user the abilities of Speed Type, Fly Type and Power Type.
Although board had different appearances in various games it appeaed, the vehicle in the comic appeared as it was in its first game appearance.