This article for a comic book issue, which has already been published, yet the article is incomplete.
Articles includes individual comic issues and the Annuals. Please help improve IDW Sonic Hub by expanding it.
IDW Sonic the Hedgehog Issue 41 is the forty-first issue in the Sonic the Hedgehog comic series published by IDW Publishing.
Official solicitation
The Deadly Six are still on the loose and attacking towns. Jewel the Beetle recruits Sonic's friends the Chaotix to find and stop the monsters, but Zavok is looking for his minions, too-he's angrier than ever and wants to reunite. The Chaotix will have to act quickly to outsmart the Deadly Six![1]
Featured stories
Zeti Hunt, Part 1
Synopsis
This synopsis section is needed but has not been written yet.


You can help IDW Sonic Hub by writing it.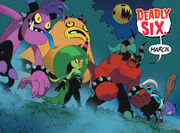 Appearances
Characters
Locations
Misc
Continuity
Other features
Story so far: "Story so far" is a summary of the current plotline for the comic.
Roll Call: Roll Call acts as a quick reference guide to new readers about the characters. This issue provides data files on Sonic, Jewel, the Chaotix, the Deadly Six and Dr. Eggman.
Sonic Letters Squad: Sonic Letters Squad is a section where the comic staff can post fan artwork and fan letters that have been sent in to them. As a special treat this month, the pages are dedicated to fan artwork sent in. The other pages showcase raw artwork of the variant covers for the issue.
Quotes
Trivia
This issue marks the return of Ian Flynn as the writer of IDW Sonic sereies.
Sonic calls Dr. Eggman "Baldy McNosehair", which is a nickname he was first given in Sonic Colors.
Eggman yelling "That's not funny! It's never been funny! It's never going to be funny!" is a reference to the web series DragonBall Z Abridged, specifically the video DragonBall Z KAI Abridged Parody: Episode 2. When Krillin tries to dub Vegeta, Gohan, and himself as "Team Three Star", Vegeta yells "That's not funny! It's never been funny! It's never gonna be funny!".
Gallery
Early covers
Raw Cover-art
Preview Pages
References
↑ Cite error: Invalid <ref> tag; no text was provided for refs named Solicit