This article for a comic book issue, which has already been published, yet the article is incomplete.
Articles includes individual comic issues and the Annuals. Please help improve IDW Sonic Hub by expanding it.
Publication Details
Issue 

ONE-SHOT

Publishing Company 
Production Staff
Cover Artist
Writer

  
IDW Sonic the Hedgehog 30th Anniversary Free Comic Book Day 2021 is an upcoming comic special that introduces classic Sonic.
Summary
Solicitation
Celebrating 30 years of the world's fastest hedgehog! There's no telling how Sonic will react when he sees the results of Amy Rose's new hobby-she's been making tell-all comics about her adventures with Sonic, Miles "Tails" Prower, and their friends! New York Times bestselling author Gale Galligan (The Baby-Sitters Club graphic novels) spills the beans! Plus, fun extras to catch readers up on Sonic's ongoing adventures, on the road to issue 50![1]
Sonics 30th anniversary celebration will be a huge priority for IDW and Sega this year![1]
Story
Amy's New Hobby
Story
Appearances
Characters
Locations
Others
Race to the empire
Synopsis
This recap covers the events of Sonic the Hedgehog #1-#40 and Sonic the Hedgehog: Bad Guys.
Other features
Sonic Letters Squad: Sonic Letters Squad is a section where the comic staff can post fan artwork and fan letters that have been sent in to them. The other page showcases the raw artwork for the main cover for this issue.
Background Information
Sonic mentions how he and Tails confronted Dr. Eggman on his own birthday, which occurred in Sonic the Hedgehog: 30th Anniversary Special story, Dr. Eggman's Birthday.
Dr. Eggman's birthday and Amy's new hobby were both written bythe same author, Gale Galligan.
The sticky note seen in the corner of the cover feature lyrics from "Fastest Thing Alive", the theme song for the Sonic the Hedgehog television series.
Tails can be seen in the Emerald Hill Zone, from Sonic the Hedgehog 2, where the first debuted in.
Knuckles is in the mushroom hill zone from Sonic&Knuckles.
Amy is seen in Collision Chaos' good future, from Sonic the Hedgehog CD, the game where she debuted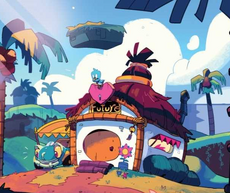 Amy's house features several references to Sonic the Hedgehog CD, which was her debut game:

A sign that says "Future" can be seen above her door. This is a reference to Time Warp signs.
A pink Little Planet flower can be seen beside the entrance, resembling the ones found in Palmtree Panic.
Amy's desk lamp is shaped like a Hotaru, a Badnik that appears in Stardust Speedway.
At the bottom of page four, Amy wrote Sonic's name with a Cool S.
Gallery
Cover-art
Preview pages
Reference
External Links
IDW Sonic the Hedgehog 30th Anniversary Free Comic Book Day 2021 at Sonic News Network, the Sonic wiki.