This article for a comic book issue, which has already been published, yet the article is incomplete.
Articles includes individual comic issues and the Annuals. Please help improve IDW Sonic Hub by expanding it.
Sonic the Hedgehog: Bad Guys Issue 1 is the first issue in the Sonic the Hedgehog: Bad Guys miniseries published by IDW Publishing.
Official solicitation
The mastermind behind the Metal Virus isn't done yet. Ian Flynn returns to answer: What happened to Dr. Starline?[1]
The Shadowy Scientist is back to his evil antics in Bad Guys! And what better place to concoct nefarious plans than one of Dr. Eggman's abandoned bases? But that is easier said than done when badniks are guarding the entrance! Dr. Starline knows he can't do it alone, so he decides to recruit some familiar and not so friendly faces.[1]
Featured stories
"A Few Bad Men"
Synopsis
Dr. Starline attempts to infiltrate Egg Base Sigma, in order to aquire materials for his creations
Despite his invented Multi-Tool Heel Spurs, and being effective to a degree, it isn't enough to stop the full contingent of badniks stationed at the base.
This synopsis section is needed but has not been written yet.


You can help IDW Sonic Hub by writing it.
Appearances:
Characters:
Locations:
Items:
Misc.:
Continuity
Both Rough and Tumble were previously converted by the Metal Virus into Zombots. They were also cured from it and were helped out of the pit by Tangle the Lemur and Tails. They were incarcerated after terrorizing Barricade Town, which was not the first time that happened.
Mimic first appeared in the Tangle and Whisper miniseries, and was captured and sent to the prison/
Dr. Starline was last seen being thrust into his own Warp Topaz portal by Metal Sonic after refusing to give the gem to Dr. Eggman for the purpose of reversing the Metal Virus. He was then seen in his repository, determined to become an equal partner to Eggman.
Zavok was defeated by Sonic and friends. After the metal virus apocalypse was undone, he was then sent to Everhold Prison. (Sonic the Hedgehog #31, "Recovery, Part 1")
Trivia
The Cover A displays all of the previous villains that originated from IDW and the previous miniseries, with the exception of Zavok.
A Maid Robot can be seen on cover B.
Other Features
Sonic Letters Squad: Sonic Letters Squad is a section where the comic staff can post fan artwork and fan letters that have been sent in to them. The pages before this showcase raw artwork of three of the variant covers for the issue.
Sonic the Hedgehog #1 - Free Digital Ashcan
Quotes
Background Information
The first issue was to be originally released on the 14th of April. However, it, alongside the other upcoming issues was delayed due to the Corona Virus pandemic. It was soon moved to 23 September 2020, then to 7 October 2020 and then to 23 October 2020.
The B Covers can be combined together to form a panorama.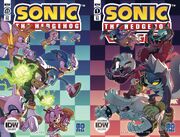 Gallery
Covers
Gallery
Preview pages
References