This article, which is based on the real-world perspective is incomplete.
Articles includes people and other things in real life (i.e. the production Staff of IDW). Please help improve IDW Sonic Hub by expanding it.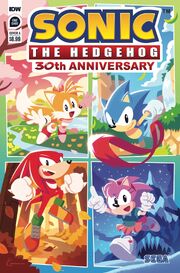 An untitled IDW Classic Sonic the Hedgehog is rumored to be an upcoming series published by IDW Publishing that will feature and chronicle the adventures of Classic Sonic. It would be a spin-off of the main IDW Sonic the Hedgehog series.
The series will first debut in the Sonic's 30th aniversary one-shot special, IDW Sonic the Hedgehog 30th Anniversary Free Comic Book Day 2021.
Issues
Trivia
According to the two worlds canon, classic sonic is retconned from the video games before the events of Sonic Adventure.
The most notable feaure was that the only human seen was Dr. Robotnik, and that he retained his classical appearance before Sonic Adventure.
References