This article is incomplete.
Please help improve IDW Sonic Hub by expanding it.
Claire Voyance was an anthropomorphic howler monkey and was psy-ops member of the Diamond Cutters. In particular, she had the ability to scout ahead of an area with her mind.
History
Early History
Claire Voyance was a member of the Diamond Cutters, an elite anti-Eggman mercenary team. There she made use of a greenwisp. Smithy created a custom made wispon, which she nicknamed Mantis, for Claire to use with her wisp.
Appearance
Personality
Claire was quite a cheerful person who believed in justice and personally opposed everything Dr. Eggman stood for. She was more cautious than the other members of the Diamond Cutters when it came to missions and other potential dangers.[2]
Abilities
Just like her fuill name, she possessed extra-sensorary abilities that is not gained through normal senses. This included being able to detect or sense targets at a distance. She also had a slight precognition, saying that she had a bad feeling, during her final mission.
Equipment and weapons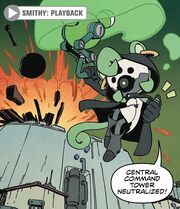 Like the other Diamond Cutter members, Claire made use of her mask, which allowed her to communicate with her group across large distance, as well as being a translator to the universal language of the wisps.
Claire had a hover wispon that is named Mantis, which was powered by her green wisp companion.
Relationships
Friends/Allies
Enemies
Gallery
Modelling Sheets
Trading Card
References